Description
Size: 172x150x55 mm.6″
UF15KM11-H
UF15KM23-H
Rated Voltage
115 V
230 V
Frequency
50/60 Hz
50/60 Hz
Input Power
42/42 W
42/42 W
Rated Current
0.52/0.47 A
0.25/0.23 A
Locked Current
0.88/0.75 A
0.43/0.37 A
Speed
2800/3250 RPM
2800/3250 RPM
Maximum Air Flow
5.5/6.5 m³/min.
5.5/6.5 m³/min.
Maximum Air Flow
195/230 CFM
195/230 CFM
Maximum Pressure
14/16 mmH2O
14/16 mmH2O
Maximum Pressure
0.55/0.63 InchH2O
0.55/0.63 InchH2O
Noise
49/53 dB
49/53 dB
Weights
1.1 kg
1.1 kg

Code Remark: UF15KM11BTHF (115VAC,Ball Bearing,Metal Impeller)




                      UF15KM23BTHF (230VAC,Ball Bearing,Metal Impeller)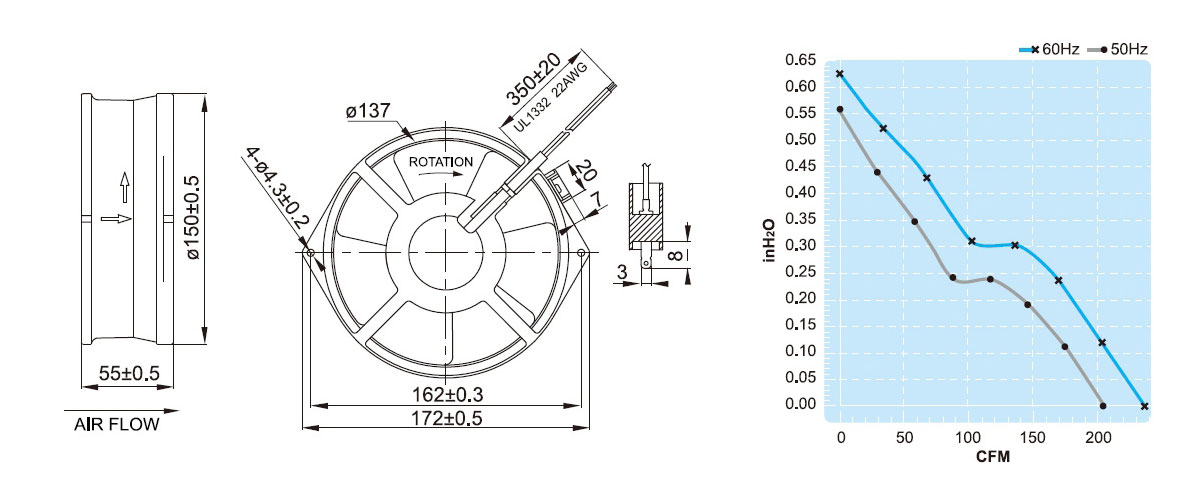 SAFETY APPROVAL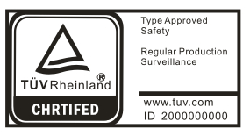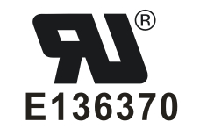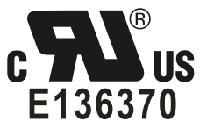 Accessories
For Fan 6″ : Fan Guard/Finger Guard : MG-15, Fan Filter : PFG-15,Plug Cord : LA-10
UF15KM (For UF15P,UF15PC,UF17P,UF17PC,UF15A,UF15AC,UF15KC,UF15KCR,UF15KMR,UF15KM,UF13A)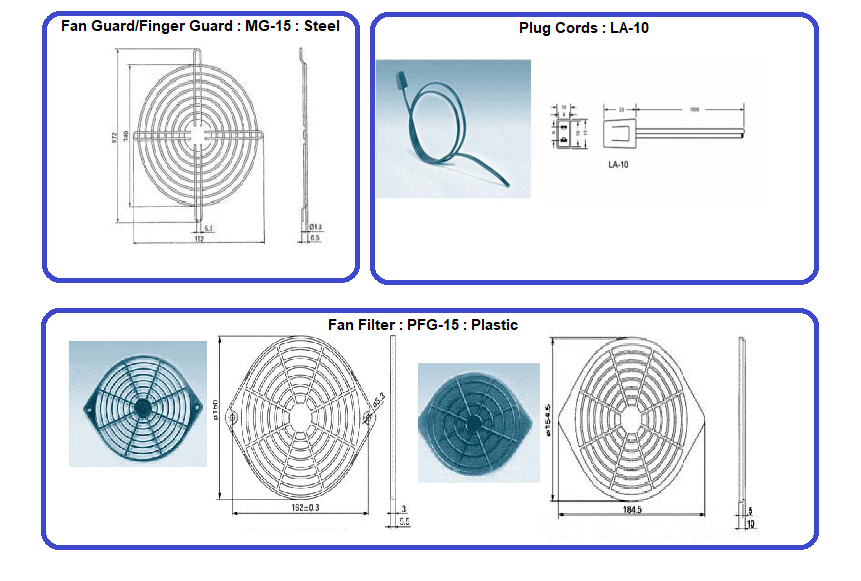 Axial Fan : Cooling Fan : Fulltech : UF15KM11BTHF,UF15KM23BTHF
We're the leading import companies of fan products brand name "Fulltech". Our company is the distributor and representative of FULLTECH FAN product in THAILAND. Fulltech fans are widely accepted as being the leading brand name for every industry in THAILAND.
The Fulltech product which we supply can meet all the needs of the customer. Our fans are tested for quality before delivery to the customer.
บริษัท เทค แอนด์ ไทม์ ซิสเต็ม จำกัด คือผู้นำเข้าและตัวแทนจำหน่าย พัดลมอุตสาหกรรมที่มีคุณภาพสูง ภายใต้แบรนด์ "Fulltech" (ฟูลเทค) สินค้าของเราสามารถตอบสนองความต้องการของลูกค้า ทั้งในด้าน คุณภาพ ราคา การบริการหลังการขาย โดยมีการทดสอบคุณภาพทุกชิ้นก่อนส่งถึงมือลูกค้า
พัดลม ฟูลเทค รุ่น  :UF15KM เป็นพัดลมระบายความร้อนคุณภาพสูงอายุการใช้งานยาวนานชนิดวงรี (ตาแมว) ขนาด 6″ ชนิดใบพัดเหล็ก ทนอุณหภูมิได้สูงประมาณ 90°C เหมาะกับใช้ในงานอุตสาหกรรมหรือใช้งานทั่วไป กรอบ/โครงผลิตจากอลูมินัมพ่นสีดำ แกนแบบลูกปืนทนทาน อายุการใช้งานกว่า 40,000 ชั่วโมง ผ่านการรับรองมาตรฐานสากล
Example Application: For UF15KM
AC cooling fan with waterproof for heat exchanger mounted outside – Fulltech Electric As more and more air pollution in those years, includes the harmful particulate matter, microorganism and so on, those cause the problem of the human respiratory system easily. Also, the excess amount of CO and CO2 in a closed building could also be harmful and cause the human being dizzy or uncomfortable.
Heat exchanger ventilates the air mechanically to exhale the harmful gases and CO2 inside and inhale the fresh air from the outside, to keep the inside air quality is good at certain level, plus with air conditioner running 24 hours a day, it will keep the air fresh inside and also help to save the energy as well.
Some heat exchangers are mounted on the wall outside, and to inhale and exhale the air with the AC cooling fan running inside the enclosure. However, with exchangers mounted outside, it increases the risk of the malfunction of the machine itself. So, it is very important to choose the right AC cooling fan inside the exchanger, since it will help the exchanger to function correctly and guarantee its life cycle. AC cooling fan with waterproof will certainly avoid the malfunction of the exchanger caused by the rain or humidity outside.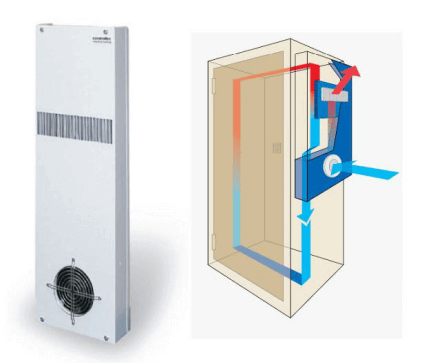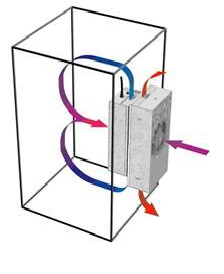 Fulltech AC Axial fan –UF15KM23BWHN is a waterproof fan with stator fully sealed. It can also prevent the malfunction of the fan from humidity or dust outside. UF15KM23BWHN also passed the constant temperature and humidity test for 20°C~70°C per cycle, with 15 cycles, 300 hours in total, which proves to our customers that UF15KM23BWHN with metal blade functions well in the outdoor and also rugged environment as well
พัดลมระบายความร้อน,พัดลมระบายอากาศ,พัดลมตู้คอนโทรล,พัดลมอุตสาหกรรม,พัดลมแบบลูกปืน,พัดลม6″,พัดลมอุตสาหกรรม 6″,พัดลมAC,พัดลม220V พัดลมคุณภาพสูง,พัดลมไต้หวัน,พัดลมดีๆ,พัดลมดีที่สุด,พัดลมFulltech,พัดลมทนอุณหภูมิ,พัดลมตู้คอนโทรล,พัดลมระบายความร้อนตู้คอนโทรล,พัดลมระบายความร้อนเครื่องจักร ฟูลเทค,Fan Fulltech,พัดลมตู้แช่,AC Fan,พัดลม,พัดลมระบายความร้อนตู้,พัดลมเครื่องจักร,Axial Fan,พัดลมตาแมว,พัดลมวงรี,พัดลมใบพัดเหล็ก,พัดลมขนาด 15x*172*55mm.,พัดลมทนอุณหภูมิ 90 องศา,UF15KM11BTHF,UF15KM23BTHF,UF15KM11BWHF,UF15KM23BWHF