Description
Features
High pressure design to meet different customer's requirement.
Ring lock design for TSH, makes easier for installation. It can save time and labor by using our special handle.
Special design for plug base which both fit DOE and SOE cartridge.
Thick, High-density O-ring is convenient and safe to use when the head screw with the shell.
With the stainless steel cartridges, can have more advantages on it.
Applications
Water
Machinery oil
Groundwater
Electroplating Industry
Food Industry
Petrochemical Industry
Beverage Industry
Pool
Environmental Industries
Unique liquid filtration
Electronic Industry
Industrial wastewater treatment
Specifications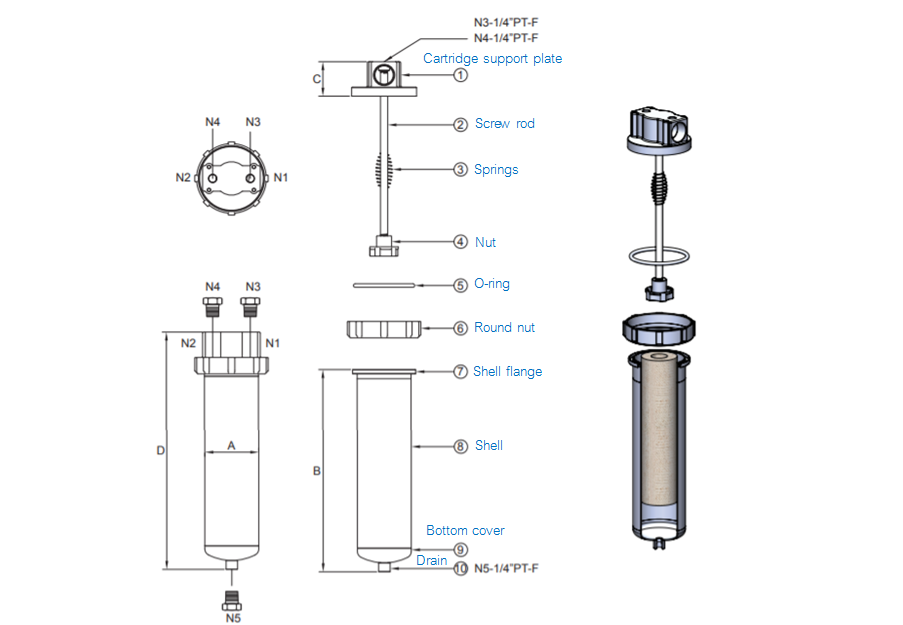 Description of Model No.
| | | | | | | | |
| --- | --- | --- | --- | --- | --- | --- | --- |
| TSH | 1 | CF | 6 | 25 | PF | E | 13 |
| 1 | 2 | 3 | 4 | 5 | 6 | 7 | 8 |
1. TSH :
High Pressure Single Cartridge Filter Housing
2. Length of Cartridge :
3. Cartridge :
4. Material :
5. In & Outlet Size :
6. In & Outlet Type :
7. O-ring Material :
E = EPDM
V = Viton
N = NBR
S = Silicone
8. Interior surface finished :
1 = ACID-Washing 2 = ElectrolyzeExterior surface finished
1 = ACID-Washing 2 = Electrolyze 3 = Polishing
กระบอกกรองแบบไส้กรองเดี่ยวชนิดแรงดันสูง สามารถใส่ไส้กรองความยาว ขนาด 10 นิ้ว 20 นิ้ว หรือ 30 นิ้ว รองรับแรงดันได้สูงประมาณ 30Kg/cm² เพื่อรองรับความต้องการของลูกค้าที่แตกต่างกัน ผลิตจากวัสดุสแตนเลสคุณภาพดี เกรด 316 ขนาดท่อน้ำเข้า-ออก 1″ กระบอกกรองเป็นแบบตัวล็อควงแหวน ตัวกระบอกกรองมาพร้อมกับประแจไขสำหรับฝาและตัวกระบอกกรอง ตัวกระบออกออกแบบมาขนาดเล็กกะทัดรัด ตัวกระบอกกรองเพรียวเล็ก ประหยัดพื้นที่ติดตั้ง สามารถติดตั้งได้ง่าย ใช้สำหรับไส้กรอง DOE และ SOE มีซีลโอริงพิเศษรองรับด้วยป้องกันการรั่วซึมได้เป็นอย่างดี โดยนำมาใช้ได้ในอุตสาหกรรมต่าง ๆ เช่น

 น้ำดื่ม น้ำบาดาล อุตสาหกรรมอาหาร อุตสาหกรรมเครื่องดื่ม อุตสาหกรรมสิ่งแวดล้อม อุตสาหกรรมอิเล็กทรอนิกส์ น้ำมันเครื่อง อุตสาหกรรมไฟฟ้า อุตสาหกรรมปิโตรเคมี สระน้ำ ระบบบำบัดน้ำเสียอุตสาหกรรม